Mission Statement
Supporting the social and emotional growth of all WES students so they can get to work on learning!
Counselors' Corner
As the weather cools, some families may have concerns about meeting their heating needs this winter. Know that there is help. Below are some names and phone numbers for programs and organizations that provide heating assistance. Some of these are on a first come, first served basis so it's in your best interest to get started soon. Feel free to contact your School Counselor with questions or if you would like some help. Neera Harmon (nharmon@wiscassetschools.org)
LIHEAP (Low-income home KVCAP 800-542-8227
energy assistance program)
Community Energy Fund 563-3883
MMCA (Midcoast Maine 800-221-2221
Community Action)
Salvation Army Wiscasset/ 882-7184
St. Phillips Church
Wiscasset General 882-8200 x 103 Assistance
What is a School Counselor?
A school counselor is the person in your child's school who explicitly supports the social/emotional, career, and academic growth of all students.
How do they do this?
The school counselor sees ALL students in the building as their responsibility. To meet the needs of the entire student body, the school counselor offers:
•Lessons in all grades. Topics often include problem-solving, conflict resolution skills, career and safety lessons among others depending on the grade level.
• Groups. Topics may include friendship and social skills, grief, family changes, and/or self-esteem based on the needs of the student body.
•Individual support. Students needing private support may meet with the counselor for a short period of time. If the issue appears to be a longer-term issue, the school counselor will discuss with the parents/guardians other options for longer-term support in or out of the school building.
•Other duties. Consulting with parents, teachers, and administrators. Connecting families to area resources.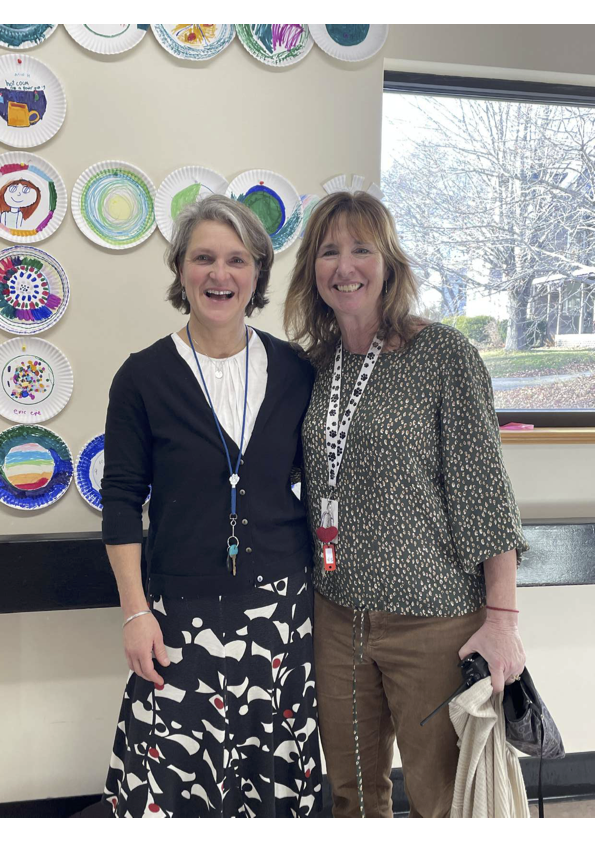 Denise Bourgoine
This is my 39th year in education and my first year as a school counselor in Wiscasset. I still love learning from little human beings and enjoy their energy, insight and grit. Prior to this position, I was an elementary assistant principal in the Oxford Hills area and held a school counselor position in several school districts in Southern Maine. I was born in Aroostook County and have humble beginnings. This past year I moved to the mid coast with my husband. In my spare time, I love spending time with my new grandson, making jam, hanging out with my dogs and being outside.
You can reach me at WES Monday - Friday at 882-7767 x 314 or at dbourgoine@wiscassetschools.org.

Neera Harmon
When I began at the Wiscasset Elementary School in 2014, I was the K-6 School Counselor and then transitioned to the 3-5 counselor in 2017. I love this age when students are starting to self-reflect and grow their reasoning and self reflection skills. They are funny, interesting, and loving and make me feel grateful to do this work everyday.
When not at school, I enjoy time with my daughter and husband living on our lake in Bath, biking, cross country-skiing, traveling, fostering puppies and reading.
Please feel free to reach out to me anytime. I am at WES on Mondays, Wednesdays, and Thursdays. 882-7767, nharmon@wiscassetschools.org
Statement of Confidentiality
To respect the rights and relationships of students and parents, information shared with us will remain confidential with the exception of student safety, if required by law, or if given permission by the child and/or parent
Our goal is for each student to shine socially, emotionally and academically in a safe, positive environment.